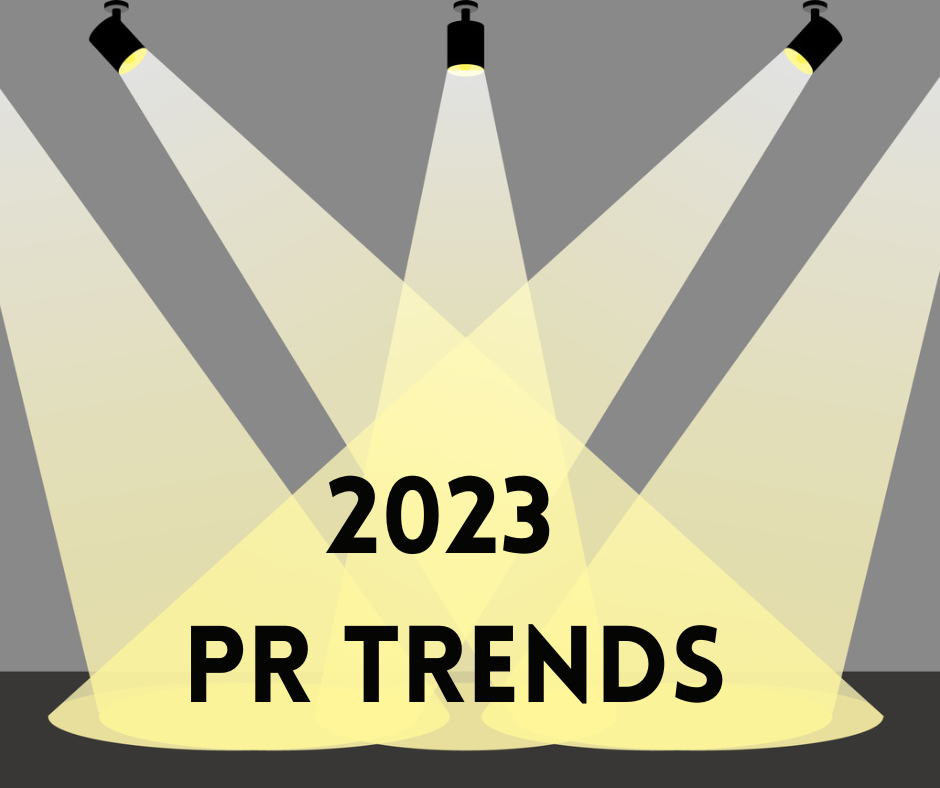 Some industries can get away with sticking to the basics. But that's not the case when it comes to PR. Getting your message out in fresh and exciting ways amplifies your exposure and gives you another step up on your competition. Discovering new ways to steal the spotlight will get you top results. 
To help you get inspired, let's look at the top trends that public relations firms are seeing make a huge impact this year.
1.Rethinking the Release  
Many companies and PR firms have gotten a little too comfortable with how things have always been done — or assume they should be. Part of what makes news newsworthy is how it's presented, so think beyond the same old, cookie-cutter mold. While press releases are the bread-and-butter of putting an important statement out in the world, you don't always have to take this approach. Exploring fresh, innovative ideas for getting news out there sets you apart from the companies with a lot of the same content to share and helps you get the positive attention you're looking for in more ways than one.
Here are a couple of examples:

Surveys. By framing your news as interactive, you can differentiate your message. Even if you don't have something super exciting to share at the moment, a survey is a great way to create your own news. When making the message two-way, you can establish a relationship with your audience and gain valuable insight into the people you want to reach. 
Merchandise. Send merchandise related to your big news to influencers, bloggers, or the press. Make it something they'll use for a while or will be excited to share on their social platforms to help keep you top of mind.
Product Videos. A written press release is selling it short if you're announcing something that deserves visual attention. Create a walk-through or explainer video that shows — not tells — the story to share with press and boost your social awareness.  
Product-Sharing Sites. Connect with thousands of potential customers with product-sharing sites that people trust, like Product Hunt. These platforms allow users to upvote the products they like best, opening the door to potential brand advocates while increasing brand awareness through their daily emails.   
Think of new ways to bring your message to the market, and see where a little innovation can take you.
2. Finding the Good in the Bad 
There's a lot of bad news in the world today, and unfortunately, you can't ignore it. While going negative is usually something you want to avoid, you have to join in on the conversation when heavier things are being discussed around the world. Ignoring the issues your audiences care about only makes you seem tone-deaf.
That being said, delivery is essential. Timing and tone significantly affect how your message will be received. Consider how you can communicate these issues in a way that may be uplifting but realistic. Direct but relatable. This will be one of the biggest challenges that companies and their PR agencies will continue to face, so making it a priority to connect with audiences on this front more meaningfully will be invaluable. 
3. Saying Goodbye to Premiere Dates 
 Breaking news: premier dates aren't it anymore. More and more production companies and agencies are finding the value in omitting an actual date and time for their release and giving themselves a longer tail on the original announcement. With less pressure from a ticking clock, there's more time to get the news out to more people and build hype around a production through events, media, and more. There's also more time to take swings regarding any initial issues or negativity surrounding your release. With these types of benefits, premiere dates are obsolete as far as trends go. 
4. The Rise of Remote
The concept of work is very different than it was just a few years ago, and PR needs to roll with the rise of remote around the world. Boundaries have been redefined in home/work life, and it's a PR firm's job to create and honor these new limits. No longer are the lines between the two so clear, so it's essential to understand how to re-establish relationships and redefine how we communicate with our audiences in a way that matches their new lifestyles. You don't want your messages to feel intrusive… or get ignored. 
PR is not transactional. Now, even more than before, it's about cultivating relationships by understanding what your audience faces daily and honoring that. It's establishing deadlines and closing dates to build trust and loyalty. 
5. Events Making a [Different] Comeback 
Another newer hurdle for PR companies is navigating the transition back to in-person events — because even these look a lot different in many cases. Big-scale budgets aren't something everyone is seeking anymore. People seek more intimate moments, looking for a more meaningful connection in all aspects of their lives after spending more time — and less time — with their loved ones over the last couple of years.
Companies hosting events are looking more closely at ROI than ever before. Entertainment PR firms and nonprofit marketing agencies are reimagining events where people are more mindful of getting solid returns than being as flashy as possible. Event management and planning are more focused on connection and collaboration, and designing an environment that makes that easy and comfortable is a big trend we see across industries.
7. Going Multi-Generational
Today, traditional media and digital campaigns hold their own weight in a successful PR strategy. Campaigns have to evolve to meet the needs of multiple generations in the places that most resonate with the way they've grown up. 

Gen Z is the next generation of consumers. While spending the majority of their time on a computer or smartphone, they're looking for brands that have figured out how to navigate the digital realm through their marketing. But it would be remiss to leave your OG consumers behind, mainly because they notoriously have a healthier revenue stream. 
Don't lose your loyal customer base by giving up on traditional media. It's time to think of your strategy from all angles, tailoring messages and placements to the right audiences and ensuring each is represented. To succeed in the PR environment today, you have to cater to more people with a multi-generational approach.
8. Trends & Tools for PR Measurement
PR is only as effective as the data you take away from it. Understanding your consumer behaviors and campaign performances is the only way to ensure your efforts are not all for nothing. But tracking your metrics can be more difficult when you're catering to multiple platforms to speak to today's market, but some tools can help simplify the process…
Cision is an excellent tool for reaching out to influencers and tracking active campaigns.
Muck Rack can help you develop the same content for multiple platforms.
Google Alerts allows you to keep track of the latest trends with notifications.
Meltwater uses AI to help you stay on top of your digital marketing strategy and performance. Coveragebook gets you simplified metrics for any content if you insert its link.
Google Analytics shows you stats for your website and landing pages.
 Whether you use one or a combination of these tools, you'll better understand what's working and what's not, so you can pivot your PR strategy accordingly and stay in touch with your audience. 
9. Avoiding the Seasonal Slump 
Last, but not least, with the holidays right around the corner, be aware of their impact on your marketing and launches. The holiday PR slump is real, so if it isn't holiday-related, don't waste time, energy, and money on it during this time.  
Take the Spotlight with SMITHHOUSE
At SMITHHOUSE, we've got the strategy to keep you in the spotlight. Our team of experienced publicists is committed to staying on top of the latest trends across PR and within your industry so you can focus on what you do best. We're a boutique PR agency that gives your company the time and dedication it deserves with customized services that put you in front of the right audiences and press for your unique goals.
Whether you need entertainment PR, reputation management services, media training, or lifestyle public relations, our expert communicators build the relationships you need, amplify your message with an extensive reach, and offer you transparency so you can see how we do it.  
Let us stay on top of trends for you — reach out to SMITHHOUSE today to get started!